While a hot weather is coming to your town, more people are seeking for a place to escape, somewhere far away from the fast pace of the city, as close to nature as possible. Especially, students are attracted by the benefits of a camp life - the fire, stars, and friendly company. However, above all, before any camping time you need to prepare thoroughly - to consider the route, calculate the number of people and the amount of food, collect all the necessary things. So how do you correctly assemble it? We have considered the simplest options for travelers who are too much of beginners to comprehend the basics of camp life.
How to Choose a Backpack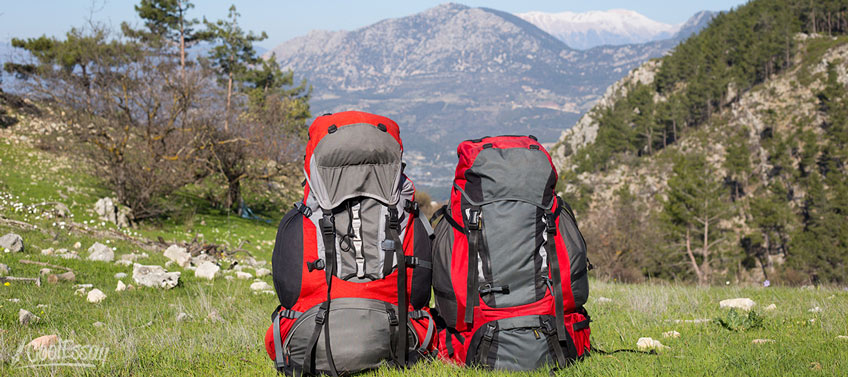 First of all, you should already know where you go and for how many days you need to get a backpack. It must be roomy, waterproof, with lots of pockets. Remember: you do not need a backpack for esthetic purposes. It should be convenient at first. The presence of the pack and the settled date of the beginning of the camping is pushing us to the next step - laying items and products in it.
Putting a Backpack
So how do you fold the bag right? The rules are very simple: heavy things are stacked down in the middle. Put something soft from the back - clothing, for example (especially it's important if the backpack is not rigid on its back). Fragile things should be put on top, and small things that are not often used have to be put on the bottom of a backpack. Once you've packed all up, put the backpack on yourself and jump! If nothing causes your discomfort, then you have done everything correctly.
The List of Most Useful Things
Here is the rough list of what to bring on a hike for a few days: tent, sleeping bag, pot, spoon, bowl and knife, cup, ladle, water (if you go to the place where water is available, you can take a little bit and then just pour in the same container), an ax or a saw, matches, paper (for a bonfire), raincoat (it takes up much less space than an umbrella and protects you and your backpack from rain), a first aid kit with the necessary medicines (bandages, antiseptics, activated carbon, panthenol, some antibiotics), warm clothes (even if you go camping in the summer, evenings and nights can be cool, and the weather is often unpredictable), spare underwear, socks, insect repellent, sunscreen, toothpaste, toothbrush, soap, shampoo, towels, sewing kit, flashlight, food, camera, removable battery, battery charger (sooner or later you will most likely run into the civilization). Of course, you can add other things to the list which are truly vital for you but remember you'll be carrying it on your shoulders for more than one kilometer.
What to Eat
We should also talk about food. For the first day, you can take sandwiches, but do not bring perishable foods. The classic meal includes: canned meat, cereals, crackers, tea or coffee, sugar, salt and high-calorie foods that will help you recuperate quickly after eating: chocolate, nuts, dried fruits.
There can be an endless talk about this topic. However, several points should be taken into account such as selecting a route, time of the year, the number of days you spend outside of civilization, and the subjective opinion of each trip participant. When you're ready with all considered items, you can safely go and meet the adventures!