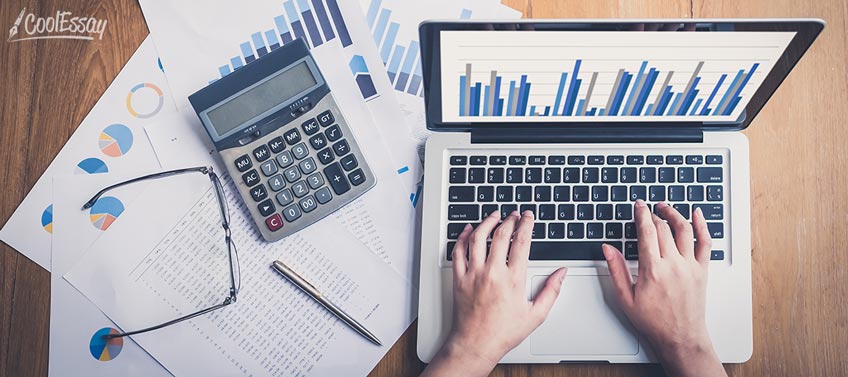 Why Is English Necessary for Economists and Accountants?
The financial sphere is one of the fullest of slang (among professional directions) in any language, and English here is "ahead of the whole planet." Why?
First and foremost – and this is important – English is the main tongue of communication and formal rules in the global financial sector.
The main world organizations, managing and creating accounting standards – IFRS Foundation and their international department – are created in English-speaking countries (USA, Great Britain).
The key investment banks of the planet come from the United States. The largest number of Nobel laureates in economics – from the United States, Britain and Canada (56 laureates out of 74 that have ever received an award). All international interbank communication, which forms the basis of the global financial system, is exclusively English-speaking.
How does this affect an ordinary worker in the financial and economic sphere? Here are just a couple of examples:
International certificates, often required by international companies to obtain high (and high-paying) positions – for example, CFA, ACCA, CPA, CIA – require long, challenging studying programs. In what language? That is right, only in English. Therefore, without the knowledge of professional terminology in English before the beginning of the course, it will be extremely difficult to successfully learn the material;
Almost all the latest news, data on the stock markets and forecasts of serious experts in the financial and economic sphere come first of all in English. As you know, time is money. If you received the necessary information late, because you waited until it was translated into your tongue – you have already lost;
All international contracts for the sale of goods, equipment and services as well as international credit agreements, legal documents on transactions, securities contracts, etc. are in English. Have you trusted the translator without checking the text by yourself? So, you have fallen into the zone of unpredictable risks for both the employer and personally for yourself.
The Language of Calculators
Probably, it should not even be mentioned that all intercorporate communications go only in English in almost all international companies (regardless of the host country) as well as any communication with western counterparts.
No, of course, the French, the Germans and the Dutch appreciate it very much when you communicate with them in their native languages, but when it comes to business communication, only generally accepted English is used that is equally understood by all parties.
With rare exceptions, when trying to get a job in a respectable company with an international focus, especially work related to finance and economics, professional English is one of the prerequisites – mandatory requirements.
Moreover, up to half of the job interview can take place in English, and this will be the key part of the interview. It is necessary to be able to beautifully and competently "present" yourself and your opportunities in English, professionally draw up a resume, freely respond to non-standard questions and applied tasks that will be offered during the interview.
It is highly advisable not to try to pass from general English to professional knowledge on your own at home, but to pass an individual English course for economists, accountants and workers in the financial sector, which will be built according to your specifics and requirements.
In addition to all the above points, there is another pleasant benefit from this course – you can laugh sincerely at the cult professional jokes of financiers.
Why Do Sales Managers Need English?
A new round of our thinking about English in the light of various professions – sales managers.
Tell us, will you be able to sell the pen to a foreign buyer if all your talents in fooling with smooth talk face a lack of vocabulary in the right tongue?
That is right – extremely unlikely. Your interlocutor will very quickly lose interest and thread of conversation if he or she understands only bits and pieces, or is not impressed with your language talents.
The main point is that when you hear such a question, you should ask how long the questioner is looking for the pen he or she needs, and thus, turn the situation around and make him or her talk. And you will ask leading questions: what kind of pen does he or she really look for, does he or she really need a pen, what options should it have, and so on. That is, you will not tell him or her that your pen is good until you find out what he or she really needs. And only then, knowing the demand, you will create a proposal.
Is it possible to conduct such a delicate conversation, knowing a foreign tongue in a limited volume? It is doubtful. If you are a salesman and should work with foreign clients, you have to be smooth-tongued, no matter if you're a native speaker.
Another question – did you ever try to sell something that was expensive enough without knowing all the properties of this subject? Did you succeed? And a lot of our sales managers (in virtually any field) are doing just like that when they sell expensive imported products, especially if they are high-tech.
The problem is that their English is not strong enough to get acquainted with the original instructions, additional information from the import manufacturer, which is often published only on the website and only in English, the opinions of buyers in foreign markets. Accordingly, the efficiency of such a manager is very low.
The third question – do you know why, in addition to the traditionally low quality, some products have such a low demand in western markets? Because the people, with average school knowledge of English, do not know how to sell them correctly. This problem is especially evident in foreign trade fairs, forums and other places where it is necessary to conduct a lively dialogue with potential buyers at a high level.
You will never sell your unique model, for example, a computer display on water jets, to large Western corporations if you are tongue-tied and slow to pick words, or even "broadcast" through an interpreter. It will be easier for them to deal with the not so "breakthrough" development of someone from Ireland or Singapore who speaks the same language fluently.
Well, the last thing, probably traditional for all professions today: large Western corporations often conduct intercorporate communication only in English. Sales professionals are especially concerned since a lot of words in Trade Marketing slang in general are poorly translated into other tongues, and necessarily with a partial loss of meaning.
Accordingly, English is the basic requirement for employees of this sphere in large companies. You want to get more – learn the language and do not cheat. The English course for sales managers can be tailored to suit your specific industry and job nuances. And to begin with, learn the most necessary terms from the basic vocabulary of the sales manager – this will take only half an hour.
And remember – it is important to understand what the buyers are actually looking for and then "adjust" what you have to their request.