Business ethics is a field which you must pay attention to if you want to be successful. One of the most important components nowadays is networking, which allows to share experience, establish new business contacts and meet new people, so it can be interesting and useful for you. Here are some business ethics rules of how to behave during networking events.
Rule 1. Do Not Pretend Too Busy
Networking is made for communication and sharing experience and contacts. For this reason, you have to be friendly and open: smile, say hello, be polite and get ready to meet new people.
Rule 2. Be Polite
Politeness is an indicator of your accustomedness to ethics in general, and business ethics specifically. Make sure that you are nice with people that surround you, do not forget to introduce yourself and do not leave the conversations without any proper excuse.
In case you are not enjoying a chat with a certain person, do not try to get away as soon as possible but grant at least 5 or 7 minutes to him/her. It might have been not easy for the one to start talking to you first and you should respect his or her actions. What is more, this person can introduce you to other people who you may find interesting.
Rule 3. Get Involved into Conversations
Getting into conversations is the right way to introduce yourself, your company, business or product. Additionally, here you can learn a lot about current developments in the field which you are interested in and get new partnerships.
It is not a good idea to sell your products during evening events or networking meetings but here you can definitely find people who will introduce you to potential clients.
Even if a conversation appears uninteresting to you, do not leave it without a proper excuse.
Rule 4. Keep in Touch with the People That You Meet
If you meet interesting people who might be helpful for you, do not forget to give them your business card and to ask for theirs.
After you come home, you may send an email to them sharing the impressions about the meeting, telling about why you got interested or providing them with/ asking for any information that you or they need.
Sending an email will not be considered as mauve tone if you confirm this with your companion during a conversation.
Rule 5. Learn How to Break the Ice
If you feel uncomfortable when meeting new people and talking to them, we recommend that you learn certain phrases that are normally used for starting the conversations.
In case you are still afraid to approach a group of people and take part in their talk, you may just walk around the hall smiling and greeting people. This will demonstrate that you are open for conversations and anyone who is looking for the one to talk to will join you. Do not be afraid to get socialized through the small talks at such events.
So, What Can I Write About?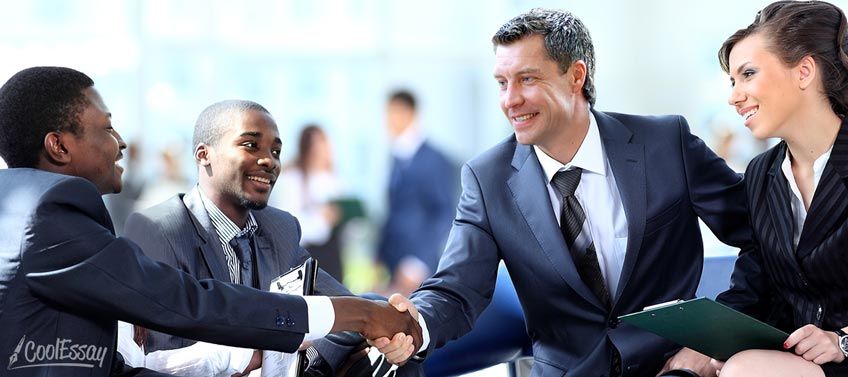 Above we have provided a few pieces of practical advice on how to behave and what to do when you meet someone for the first time, and especially when you are supposed to keep in touch with this person for quite a long period of time. What you should also remember is the fact that your new acquaintance is very likely to be as nervous about the introduction and further communication as you, so you'd better remain friendly and just nice to win his or her favor and ease the general tension of the situation.
Now, let's move from the theory of business ethics to writing about it. Here are some ideas on what you can include into your essay and how to present in an original way.
Idea #1: Back to Roots
You can find out more about where some special elements of the modern business ethics originate from. Definitely, most of the ethical principles and their mechanisms to which we all tend to stick nowadays can have very interesting historical and cultural backgrounds. So, why not dig deeper into them in order to explain why something is accepted or not accepted by our society? Also, you can search for some ideas about the psychological basis of particular ethical canons in business and analyze some real examples of how the knowledge of human nature helps with managing business relationships.
Idea #2: East or West: What Is Best
Also, you can compare business ethics of Western and Eastern worlds. You will be surprised to see, for example, how different Chinese and American approaches to one and the same situation are. The question about whether both of them are equally effective and reasonable is worth considering as well. So, look for the features and examples of how business ethics works around the world, and think about what may happen if two absolutely different styles of business management collide.
Idea #3: Business Ethics Not Only in Business
Obviously, business activity is an integral part of our life. If we assume that all aspects of our life are interconnected and can influence each other to a greater or lesser extent, we can make a conclusion that our involvement in any sphere of business and the way we act in it can have an impact on how we organize our life in general and vice versa. Indeed, a person's character may sometimes be a very significant factor in their maintaining successful business relationships with others as well. So, such type of communication would require its participants to possess certain temperaments and qualities.
These are some tips for you to get your inspiration from. Don't hesitate to broaden these topics or focus on some particular issues. Good luck!