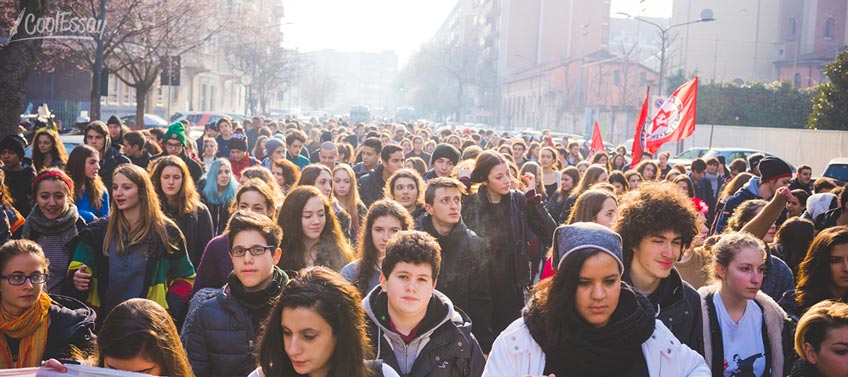 Writing a paper about such a huge movement is never simple. Therefore, we decided to come to help you and provide you with some of the main concepts on feminism issues. We will bring you the most important and up-to-date information on this range of movements all over the world in order you to succeed in your writing process and make it much easier!
No matter, whether you have got this task from your teacher or just decided to find it out for personal development, a good comprehensive intelligence about feminism can always come in handy. So, let's get it started!
Basic Hints on Writing a Paper
Writing a paper about such a contradictory topic can be a daunting task, when not knowing what a professor also wants to hear from you. Nevertheless, some tips are eternal and they will definitely be in assistance when the time to hand your paper comes.
Think of the main notion of your writing. Have an objective in your head and stick to it. That would be great if you could compose a strong introduction where all the primary and attention capturing ideas will be enlightened. Try it out;
Have a good structure. The structure rule is perpetual and no system can ruin it (we hope). No single person can live without a good structure of their paper, their schedule and additionally their life. So, bear that in mind:
An introductory paragraph (shortly, introduction) is the main and most important tool for grabbing the reader's attention. Here, all depends on your skills and ability to create the first and only positive and strong impression so that the reader becomes interested in what you are going to tell;
Main body consisting of a few (three to five, depending on your essay length) paragraphs enlightening the notion in all sides and perspectives so that no qualms or questions remain anymore. Make it go consequently one after another and do not ruin the chronological or ideal order, otherwise the reader will be confused too;
Conclusion with some words about your own point of view, a short summary about what was said in an essay and the crucial questions that are to be answered like: what was the role of it in history, how does it influence our society now and what future prognostics can be made towards its potential development;
Create a short outline. Have a scratch book where you can note down everything that comes to your mind, even more, if you have enough time, you can freely carry it along and observe some situations connected to your topic and use them as a material for your future paper. It is much easier than doing everything at the last moment;

Be laconic and precise. Condense your paper if you feel like beating about the bush, nobody wants to read an outdated information and commonly known facts. If you experience the lack of sources, feel free to ask your teacher or visit a local library and use mass media sources to be fully acknowledged with an issue;
Be objective. Unless you are to put in your personal opinion – do not be that radical in expressing it. Every social movement that touches upon the rights for freedom, equality of some classified type of people, no matter whether they are classified by sex, age, height or social background, can always create conflicts when being too incautious.
The Primary Information to Input
Once you are ready with a framework and eager to proceed with contributing some message already, we would gladly give you the main and crucial content for obligatory enlightening in your essay. So, here they are, the subtopics to be stated as well. We provide you with the knowledge in this field but you can put the information into the order of your decision.
Remember to bring your own ideas into the encyclopedia and expand it with some examples that might have happened in your own life.
The Term and Its History Throughout the World
The term "feminism" was said to be used in the early 1942 in a film "woman of the Year" by Katherine Hepburn. However, the first wave of this movement has been emerged in the 19th century already. Between 1960-70s the second wave took place and the third one covered the world from the 90s till present times. And the definition we know today has been developed exactly in the third wave of movement.
So, what is implied in this term? The main idea that is carried under the definition of feminism is a belief in the gender equality of both males and females, their equal right to work on the same job, earn the same salary, have the same social right, be an active citizen of their country with the right to vote and so on. On the other hand, the primarily beliefs of the women all around the world are being spoiled and distorted by its extremist branches
An idea of a woman fighting for her rights to be heard and her claims taken into consideration has appeared in the early 15th century. No one argues, there were some strong, independent women, but they were mainly an exclusion of a system of society, some extraordinary heroes who went against it and chose an alone life or an emblem of rebels.
It has appeared as their defense against the minor value in the society, as during the time men were largely contributing into the world's development, women's lifelong activity was mainly child-breading and child-rearing. Moreover, women were oppressed by the exploitation like organized prostitution and cases of raping due to their physiological less strength. Later, women were often denied to get a proper education, and any education in general. They were considered to be "dirty" and sinful and always were targeted as witches if had a good-looking appearance or gifts to medical treatment.
So, when the first wave of feminism was goaled to give at least some rights for women in their equality before law, the second wave went further and longed for birth control rights, which was prohibited as an unlegalized contraception before 1965, wage rates equality, they have dived into the academic writing to long for their freedom to write freely and at the same level as men.
The third wave is labeled with a significant word for this period "radical". This is a period which basically created that image of feminism we can see in caricatures and parodies nowadays as women did not stand only for more freedom in every sphere of social, political, academic and other life. On the other hand, they were those who revived the term of "intersectionality" as well as the feminist diversity and the sense of women empowerment.
Stay updated and check for our next article about writing an essay on feminism (second edition) which will come out very soon!