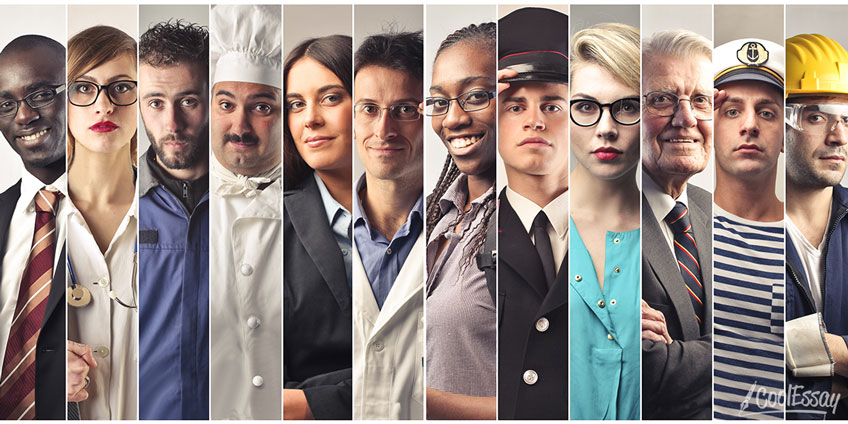 Can you find a good job without knowing English? It is possible, but will it be highly paid? Today we will tell you about 13 modern and interesting professions, where you cannot do without knowledge of English. Do you want to earn a lot?
Life is changing, people are changing, new professions with tricky names are emerging. Do you think that you got an "unfashionable and outdated" education of economist or philologist? Do you have difficulty finding work in your specialty? We assure you, it is too early to lose heart, dizzying career awaits you. Of course, we do not promise a million dollars a month, but there will be enough money for implementation of all your ideas. All you need is to learn English.
1. Programmers, Testers (IT-Sphere)
Let us put it bluntly: there is nothing to do in IT sphere without knowledge of English. The harsh truth of life: those experts of this industry who do not speak the language will not be able to work even in home companies, what to say about international corporations. Firstly, creation of a website or its testing involves working closely with English (starting with the simplest names of colors and forms to complex terms). Secondly, an assignment is often written in English. Think, did you really study to be a system administrator and become a mere vegetable in a local meat grinder factory? Do you not want a post in Microsoft or Google? In addition, the field of information technology is developing rapidly, so it will be useful to attend educational courses in English.
How to achieve success in this profession? Study, study and study again. Start learning English today to be confident in the future.
2. Journalists, Correspondents
These are interesting professions that will give you positive emotions, travel abroad, high salary and fame. Unlike copywriters or rewriters, talented journalists and correspondents often appear in public and have copyrights to their articles. Moreover, you do not need to write them in English. It is enough to know it in order to be able to communicate with local residents on a business trip, to learn the latest news from them.
How to achieve success in this profession? Develop creativity and improve your language skills. Good spoken English will allow you to get the most out of a business trip and write an excellent article.
3. Managers of Large Companies
This category includes managers on work with clients, on sales, on supply, etc. The profession is very popular, prestigious and desirable for many of our compatriots. There is an erroneous misconception that large companies hire people with great experience, and graduates of higher education institutions will first have to work for small local companies. This is not entirely true. Among other things, it is necessary to indicate such a prosaic reason for refusing yesterday's students: young people do not bother to study English. And how such a person will work in an international company, communicate with foreign partners, English-speaking customers and suppliers?
The point "knowledge of English at the level of Upper-Intermediate" will cross out the lack of experience, because foreign firms prefer to hire young people and teach them everything from scratch.
How to achieve success in this profession? Engage in English and communicate with people more often. Managers gain a lot due to the ability to persuade and establish connections. And it is not so difficult to reach the level of Upper-Intermediate if you have desire and readiness to learn.
4. Project Managers
This is quite a new profession, prestigious and in demand. Why do you need knowledge of English here? A manager must communicate with a customer, assemble a team of professionals to perform a certain work (for example, create a website, develop a product, etc.), then submit a finished project and report to a client. As a rule, such positions are formed in large firms working for foreign clients. The profession is very interesting and highly paid, but requires fluency in English.
How to achieve success in this profession? Constantly improve spoken English, the best with a native speaker. First, you will save time (and a project manager is always short of it), and secondly, master conversational speech and be able to feel free to communicate with a client and offer him or her the most creative ideas.
5. Engineers of Various Specializations
For today, engineer is a prestigious position. Knowledge of English is necessary here too, and even during studying: you need to read technical literature, understand the meaning of terms.
How to achieve success in this profession? Do not stop. Attend courses, upgrade your skills. The highest salaries are for those who work for branches of foreign companies, so that even here, knowledge of English will be decisive advantage.
6. Accountants
Until quite recently, it was possible to say with certainty that the English language is not needed in accounting. But times change, and requirements for a worker change. This is due not only to a growing number of foreign companies on the market, but also to high competition in this industry. Our labor market is oversupplied with newly made accountants who graduated from courses or university. How to win this competition? You need a weighty advantage.
How to achieve success in this profession? According to statistics, the salary of a specialist who knows English is 10-20% higher than those of someone who does not want to learn the language. Quite a pleasant difference, is it not?
7. Marketers
Marketing specialists are specialists of a wide profile. They analyze situation on the market, develop new products, study target audience, conduct surveys, manage an advertising campaign, deal with PR, etc. Often, a marketer is charged with functions of 3-4 other related professions, so English will not be superfluous. First, almost all literature on marketing is printed in English, but while a translation is coming out, these manuals become irrelevant. Secondly, you will be able to learn and successfully apply the experience of foreign companies.
How to achieve success in this profession? Fresh ideas and competent approach will help you attract right target audience and bypass all competitors. Learn the experience of the best foreign brands and marketers, communicate in professional forums, attend conferences and pieces of training of leading foreign experts, introduce your developments to the home market.
8. Economists, Financiers, Brokers
It is a reliable, stable profession. Indeed, specialists in this field are in demand, but it is sometimes difficult for an employer to choose someone, everyone has the same resume. A comparison of advantages of candidates is needed. It is needless to say that knowing English can be decisive in your career. In addition, the share of banks with foreign capital is growing every day. At least once a year, investors personally visit a financial institution with inspections. Only an expert with knowledge of English can explain results of financial statements, hold a presentation or a meeting.
How to achieve success in this profession? Attentiveness, diligence and desire to learn new skills are the main qualities of a good economist or financier. Paradoxically, but now large financial institutions lack qualified specialists with knowledge of a foreign language.
9. Entrepreneurs/Directors of Companies
World processes of integration and globalization lead to the fact that business is not limited to one city, region and even country. Entrepreneurs turn to foreign producers more and more often, the purchase of goods in China and Europe is popular. You can, of course, instruct it to a supplier manager, but it is better to solve such problems by yourself. You are interested in the minimum purchase price as this is your business, so you can develop mutually beneficial contract terms. However, even if your subordinate took over these functions, sooner or later, you will need knowledge of the language at business negotiations, meetings.
How to achieve success in this profession? Good education, including knowledge of English, is highly valued by foreign partners. If you are interested in expanding your business, study the market, works of well-known economists and, of course, the language of international business communication.
10. Web Designers
This is a fashionable profession, very attractive for young people. "Creativity – this is the key to success", – romantic young people say this way leaving their studies at the university for the sake of web design. On the one hand, the profession is really creative, on the other – it requires "pragmatic", "mundane" knowledge. About 90% of programs on graphics and design are issued in English, half of them are completely free. If you are really going to work in this sphere, remember that one Photoshop is not enough. In addition, it is much more profitable to work for foreign companies that pay two to three times more than home companies. Your English courses will begin to pay off literally from the third logo!
How to achieve success in this profession? Learn English, new programs, learn from foreign designers. Look for clients abroad and do not hesitate to ask for a traineeship in a foreign company.
11. Lawyers
Lawyers can work without knowledge of English, but they lose unique opportunities. Firstly, you will not be able to realize yourself in the field of international law, and international lawyers have the highest salaries among colleagues. Secondly, branches of foreign companies require not only knowledge of legislation, but also the ability to correctly translate legal documents into English.
How to achieve success in this activity? This is one of the professions in which knowledge of the language can play a decisive role in job placement. Do not miss your opportunity.
12. Interpreters-Consultants
This profession is not new, but modern living conditions require a new approach to work. The development of international communications has led to the fact that businessmen increasingly travel abroad, establish connections with foreign partners, conduct "developing attack" on the potential market. Earlier, a person who accompanied a businessman on a foreign trip, was called simply interpreter. They were not interested in the outcome of talks. Today, leaders of large companies are attracted not only by a simple translation, but also by a competent advice of an economist, manager, etc. If your higher economic education has not found practical application yet, we advise you to improve your knowledge of English. So you will have a chance to get in an international holding, develop and grow professionally.
How to achieve success in this profession? Alas, one higher education does not give confidence in the future, so try to find business English courses. The language of business communication will be needed not only for negotiations, but also for the study of sales markets.
13. Copywriters/Rewriters
Perhaps, it is the most popular profession among freelancers. Dozens of exchanges, thousands of copywriters, the highest competition. What can a beginner do here? Do not be discouraged, knowledge of English will give you a weighty advantage: write in English or translate articles. Demand for translated and English texts has reached its peak now, but there is one snag: there are not enough specialists. And not everyone who speaks English has a literary talent.
A freelancer works at home, which means that young mothers and people with disabilities receive additional (or basic) income. You can work not only in home companies, but also in foreign ones. The latter pay 2-3 times more, but they require a serious approach to work, high-quality texts.
How to achieve success in this profession? Constantly improve knowledge of the language, take English lessons with native speakers (here you can save by choosing to learn via Skype), so you will master the most modern vocabulary. When taking the first steps, do not try to write a lot, let the quality exceed the quantity. It is difficult to restore damaged reputation, and sometimes it is completely impossible. You must get your hand in this business and you will be able to earn good money.
Conclusion
Let us summarize. Employers, all other things being equal, give preference to a candidate who knows English. Knowledge of a foreign language means that people, in addition to higher education, received additional knowledge, they wanted to be "faster, higher, stronger". And purposeful people are the best workers.
We agree, English is not a panacea for all ills and unemployment. But, when you are open to new knowledge, chances of getting a highly paid prestigious position are much higher. We wish you the work of your dreams.